· Introduction
· Control Heads
· Compasses
· Pumps
· Distribution
· Features
· Comparison
· Testimonials
· Articles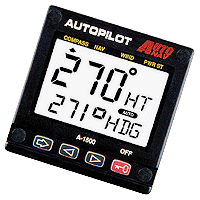 Fixed Control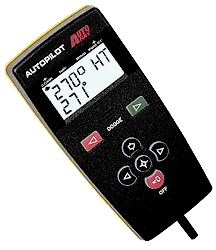 Remote Control

The A-1500 autopilot features waterproof control heads that have large high-contrast crystal clear LCD displays with wide viewing angles. The LCD display and keypads have adjustable backlit illumination for easy viewing. A menu-based display provides simple yet powerful control without the need to memorize complicated keypad procedures.

The fixed control head has only four keypads to engage and disengage the various modes, change course, power steer, or select GPS navigation automatic waypoint steering. Parameters for different steering conditions can be easily optimized during initial calibration. They seldom require further adjustment due to adaptive control (i.e. automatic compensation for varying steering conditions). Pilot course alarms and watch alarms are built-in for added safety. Automatic diagnostics indicate possible causes for an autopilot failure to aid in easy trouble-shooting. Waterproof construction includes ultrasonic welded windows, custom molded neoprene gasket, pressurized rubber keypads, sealed contact terminals, gore-tex® lining at audible alarm and injection molded cover for wire entry.

The portable remote control head may be mounted in its bulkhead bracket for storage and operation, and may be conveniently carried to any location for remote control of automatic steering, power steering, or monitoring of rudder angle and course. A virtually unlimited number and combination of controls can be installed in the A-1500. Station transfer is effected simply by pressing any key on the desired station. Stations not in control blink with "Passive" indication, so that the status of any station is clearly recognized.