· Basic System
· Components
· Control Features
· Dimensions
· Model Designation
· Rotary Vane



Our range of compact, integrated modular panels are suitable for console or steering stand installation. Type P products provide all possible combinations for non-follow-up, full follow-up and autopilot control, and provide steering system status indication and alarm monitoring. Attractive solid state back-lit black panels generate less heat, require less maintenance, and provide high visibility under all ambient lighting conditions. Special options include independent and/or electronically synchronized full follow-up control of two independent steering gears, which allow increased maneuverability and use of the steering as a "rudder brake". Analog input and output allows use with Dynamic Positioning Systems, etc. In case of main power failure, control and alarm circuits operate from either AC or DC independent power for continued operation.

Typical Components
---

The LFU 100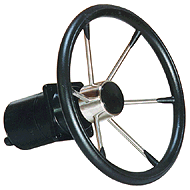 Model WFU 100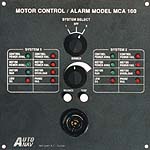 MCA 100

LCB 101

Three Face Panorama Rudder Angle Indicator


The LFU 100 full follow-up lever controller provides up to three proportional command signals. It is ideal when considerable maneuvering is required. Heavy duty and long-lasting waterproof construction.

Model WFU 100 full follow-up wheel controller provides up to four proportional command signals for use with duplicate controls, rudder order indicators, and steering failure alarms. The waterproof housing allows mounting in exposed areas. Full strength mechanical stops provide indications of full command.

Modular design allows configuration for steering motor control and any combination of alarm and status indication at the Bridge. Combined with a custom-designed printed circuit board in the starter panel, installation and system integration is simple and inexpensive. Typical features available: status indication for control and motor power available, motor run, visual and acoustic alarms for control power failure, motor power failure, motor overload, phase failure, low oil level, filter fail, hydraulic lock and steering control fail. Model MA 100 Motor Alarm panel includes all above, except motor control and is available for use in the Machinery Control Room. Low voltage (24 VDC) control circuits eliminate the shock and fire hazards that are possible with older high voltage AC controls.

The LCB 101 is a Local Control and Bridge Disconnect Panel which features a waterproof housing for the pair of internal steering amplifiers. The selector switches allow disconnection of Bridge control in case of failure. It also allows selection of local emergency control with the use of an integral NFU steering lever and rudder angle indicator – fully complying with all Rule requirements for local control and Bridge isolation. Location in the steering compartment means minimum loss of steering solenoid valve power as may occur with remote Bridge mounting. All solenoid valve control is with DC circuits for maximum reliability.