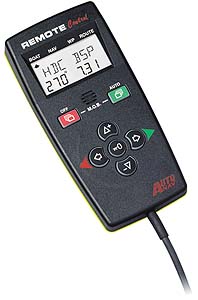 AUTONAV
Remote
Able to control all Autonav instruments that are involved in the network.
Capable of 24 separate functions.
Can display Boat data, edit waypoints and routes, set alarms and trim values.
Remote Control can be connected to any part of the Autonav Network, cockpit or at the chart table.
Easy to customize its display for all your preferred functions.
Remote is able to control the Autonav Autopilot and Maxi Repeaters.
Left Side, Select From:
Apparent Wind Angle
Bearing to Waypoint (BTW)
Dead Reckoning Course
Course Over Ground (COG)
Course to Steer
Compass Course
Direction of Current
Water Temperature
True Wind Angle
Geographic Wind Angle
Boat Speed
Right Side, Select From:
Apparent Wind Speed
Battery Voltage
Boat Speed
Depth
Velocity of Current
Dead Reckoning Distance
Distance To Waypoint
Speed Over Ground (SOG)
True Wind Speed
Velocity Made Good (VMG)
Waypoint Closure Velocity (WCV)
Cross Track Error (XTE)
| | |
| --- | --- |
| Remote Control | part # 21210 |
AUTONAV MARINE SYSTEMS INC. 55A Clipper Street, Coquitlam, BC, Canada V3K 6X2
Tel: 604-526-0113 Fax: 604-526-0146 Send E-mail Here _ _ _ _ _ _ _ _ _ _ _ _ _ _ _ _ _ _ _ _ _ _ _ _ _ _ _ _ _ _ _ _ _ _ _ _ _ _ _ _ _ _ _ _ _ _ _ _ _ _ _ _ _ _ _ _ _ _ _ _ _ _ _ _ _ _ _ _ _ _ _ _ _ _ _ _ _ _ _ _ _ _ _ _ _ _ _ _ _ _ _ _ _ _ _ _ _ _ _ _ _ _ _ _ _