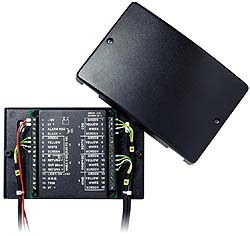 AUTONAV
Server
Works in conjunction with the Multi Control Instrument as a network master.
Serves as a terminal junction box for the Autonav network to all transducers and NMEA 0183 inputs / outputs.
Outputs for external Man Over Board, Trim Switches, and alarms.
Server electronics are well protected and splash-proof.
Data on the network is transmitted more than 5 times per second and the data transmission is 8 times faster than NMEA 0183.
Technical Data:
Power supply: 12V
Current consumption: 18mA
Temperature range: -10° to +70°
Instrument dimensions: 110 x 165 x 30 mm
AUTONAV MARINE SYSTEMS INC. 55A Clipper Street, Coquitlam, BC, Canada V3K 6X2
Tel: 604-526-0113 Fax: 604-526-0146 Send E-mail Here _ _ _ _ _ _ _ _ _ _ _ _ _ _ _ _ _ _ _ _ _ _ _ _ _ _ _ _ _ _ _ _ _ _ _ _ _ _ _ _ _ _ _ _ _ _ _ _ _ _ _ _ _ _ _ _ _ _ _ _ _ _ _ _ _ _ _ _ _ _ _ _ _ _ _ _ _ _ _ _ _ _ _ _ _ _ _ _ _ _ _ _ _ _ _ _ _ _ _ _ _ _ _ _ _